Flute making and leather work are part-time but heart-felt activities. I do not usually have an inventory of completed flutes or bags. Commissioned assignments are always welcome.

Creation of a custom flute or flute bag should involve elements of your own vision and ideas.
I stand behind my work. Any problems associated with my workmanship, will be resolved to the best of my ability.

If displeased with a new flute or bag for any reason, contact me right away. Return it in original condition within two weeks of the purchase date after notifying me of the situation, and I will provide a full refund of the purchase price less shipping costs.

Privacy Policy

A customer's privacy is of the utmost importance. I do not give out or share your telephone number, credit card information, physical address, email addresses or any personal information.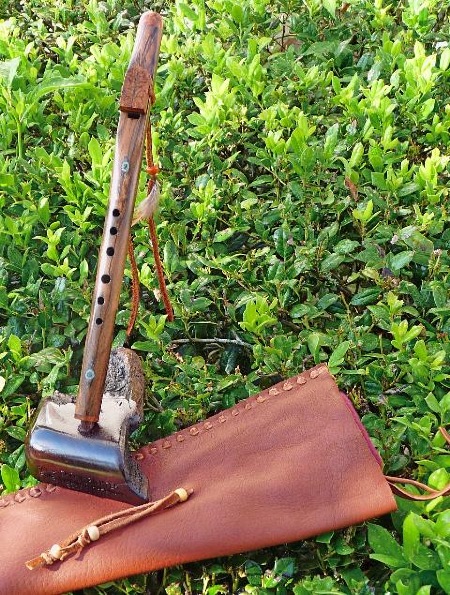 Native American style Flutes

Flute prices begin at $175 for a basic high-range, small bore flute with a simple block using on-hand domestic wood without any decorative frills.

A mid-range flute with a 3/4" to 1" bore, decorative end cap and/or mouthpiece with a more elaborate bird will of course, require more time and effort and will be priced higher. Such flutes often include decorative elements consisting of crushed stone inlay or wood burned images and will be priced at $300 or more, depending on the final design and component elements.

Exotic woods, large-bore flutes and more elaborate designs will be priced accordingly.

I favor native North American woods including Black Walnut, Cherry, Maple, Eastern Red Cedar and Cypress for flute bodies. I've created flutes using each of these plus: English Walnut, Sycamore, Elm, Alaskan Yellow Cedar, Western Cedar, Buckeye Burl, Mulberry, Locust Burl, Live Oak, spalted Magnolia, White Cedar, Camphor, Tasmanian Blackwood, Pine and other varieties. Burls and exotic woods serve as great accent material. I enjoy using combinations of woods offering contrasting colors or textures.

When I started buying Native American style flutes, I thought a bored one-piece flute was superior. Now, with a better understand how these instruments actually work, I'm convinced the advantages of routing individual halves of a flute before gluing them together, are substantial. This approach allows detailed attention to be focused on every interior surface that has anything to do with producing the flute's music. Modern glues, properly applied, are often stronger than the wood itself. This is especially important when the narrow wall thickness of today's Native American style flute is considered.

I most often use Polymerized Tung Oil, Shellac (prepared for use using dry flakes and solvent), Lacquer or some combination of these to finish flutes. A final hand-rubbing process using pumice or rottenstone with rubbing oil, produces a very high quality finish.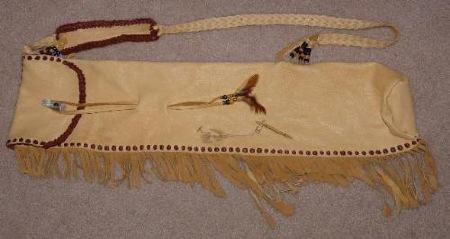 Pricing for standard, deer hide leather flute bags starts at $225. These bags are usually 25" to 28" long and 6" - 7" wide. They are created using high-quality deer hide. Elk can be used for a bit more than a deer hide bag but is significantly heavier. The bag will have a braided leather strap and a strip of hand-cut fringe with a natural or simulated natural edge line. Deer leather lacing is used to construct each bag. Subject to availability (colors cited above), different color combinations of leather can be used for the bag, fringe, strap and lacing. Decorative elements such as crow beads of various colors, wooden or carved latch string anchors, antler buttons or sections, wood burned images, minimal use of acrylic paint, or some combination of these may be included.

Highly customized and far more elaborately constructed leather bags can created for $750 or more. An example of a high-end bag is currently shown on the flute bag page.


If you are interested in acquiring one of my flutes or leather flute bags, send an e-mail message with a few comments to give me an idea of what you're considering. If I can't help personally, I will make every effort to guide you to another flute maker.

An advance deposit may be required for custom creations. Time to complete the flute or bag depends on project complexity and my schedule. Above all else, I insist on doing work as well as I am able. Such effort can take time.

When the flute or bag has been completed, I will e-mail digital photos for review and your approval prior to final payment. The quoted price will include insured shipping charges and for in-state Florida sales, Florida sales tax. I am able to send PayPal invoices to facilitate payment or I can accept credit card payments (Visa, MasterCard or Discover).

If you have any questions or comments, please contact dan@nlss-flutes.com.