I am Daniel Arrington, I've been making Native American style flutes since 2005. I try to create flutes which play well, sound great and look as good as they play and sound. Thanks for visiting this site.



This flute is composed of Black Walnut with Pecan mouthpiece and end cap (key of E). Decorative elements include red coral inlay wolf tracks and a wood-burned image of a wolf head on the south end of the bore. The wolf perched on the block is carved from Pecan. Super responsive, this flute produces a strong vibration easily felt in the finger tips while playing.


This Cherry (F#) flute features dragonfly inlay and wood burned images on the block and on the bore of the flute.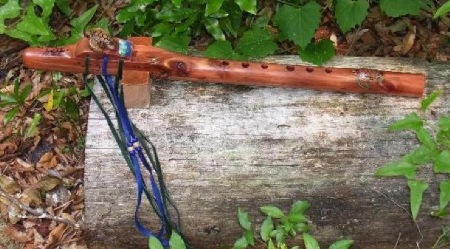 This is an Oscola Eastern Red Cedar flute. 1" bore, key of E. The turtle carved into the south end of the bore is heading towards shore. The block features a turtle coming out of the surf (inlay opal, azurite, malachite, and turquoise).

Musical Echoes' judges (Dock Green, Jeff Ball and Raymond Redfeather) and that evening's headliner performer, Robert Mirabal signed this flute after the competition had ended.

If you have any questions or comments, please send an e-mail message to: dan@nlss-flutes.com